Keynote: Culturally Responsive Pedagogy in Technology, Kurt Seemann, Associate Professor, Faculty of Design, Swinburne University
Design technology – something happening, people don't believe there is a subject area.
What is it for? End with argument about what we can do that others can't.
Culturally responsive means…
teaching to understand cultures based innovation as we link up like never before

dark light map of world, ideas coming out of the darkness
global cultures are colliding – 

AirTraffic Worldwide

working technologically is a form of social practice that transforms human knowledge

learn socially
e.g. spare thrower

design context and purpose is EVERYTHING

teach to build body of knowledge for different 'bubbles' of context
the bubbles of context – things you include or leave out
teach to explore purpose and context

design purposes only makes sense when placed in it intended context of use
narrative approach – example rubbish in aboriginal community

metaphors and narratives can inform design education strategies

defining elements of a technology genre
familiar groupings that make sense
metaphors for communicating basic technacy systems rules
understanding links in our technolgy world

working technology has it owns unique way of making knowledge

ways of knowing slide
scientifically vs designing and working technologically

scientifically: i analysise, i discover
technologically: i synthesise, i design

ecology
Culturally Responsive Pedagogy: panel of expert practitioners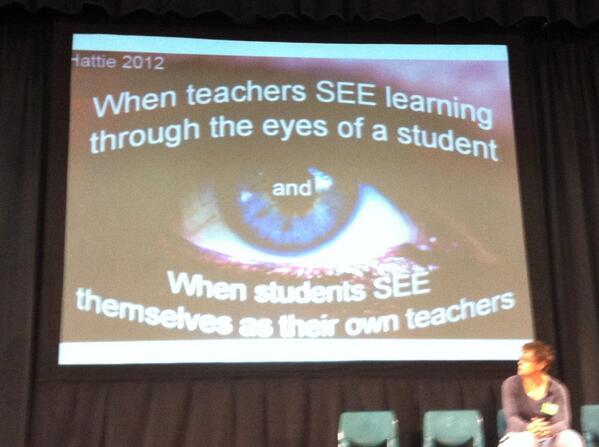 Student voice
Ako – to teach and learn. Be a risk taker as a teacher, try things out, challenge yourself, teachers are not experts, are not the font of all knowledge.
Learn about your students, listen to them,
Confidence – in digital technology – http://pechakucha.co.nz/
Minecraft – daily club, 3 day episode, Y11 3D AS, Y12 Computer Science AS
Success cannot be defined by one learning area.
John Dobson
if you don't get the culture right in your classroom, then the content is irrelevant
take the opportunity to be a dean as will give you an insight into how shitty some students lives are
all students are individual – "Your Pasifica", "I'm Tongan", 6 pasifica islands, students deserve to  be recognised for who they are and where they come from
Percentage of Māori and Pasifika students in a school.
Teachers part of the problem? Because they are big part of the solution.
Māori name – reason behind the name, take the time to learn the reason.
Assessment for learning – back after 3 days, individual feedback to each student within 5 days.
Critiquing other students work – got to get the classroom culture right first.
Aim –  to get students to take control of their own learning

getting them to trust each other and then critique each others work
building up a culture
"teaching" CAD –  let students learn it, they can help each other

(Y9 use Scratch?? have tutorials, videos and learn in first part of course)
can students learn by themselves? students say teach me? Who taught them how to use xbox? playstation? #tesac

— gmacmanus (@gmacmanus) October 7, 2013
Structure of subjects and timetable – students are learning 5 subjects a day!
Know what islands students come from. Know the local iwi in your area.
 Vocational Pathways – Geoff Keith
http://youthguarantee.net.nz/vocational-pathways/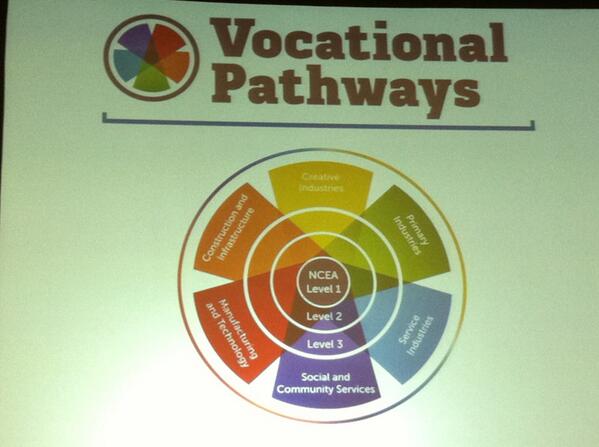 Creative industries have been added, now 6 parts to wheel.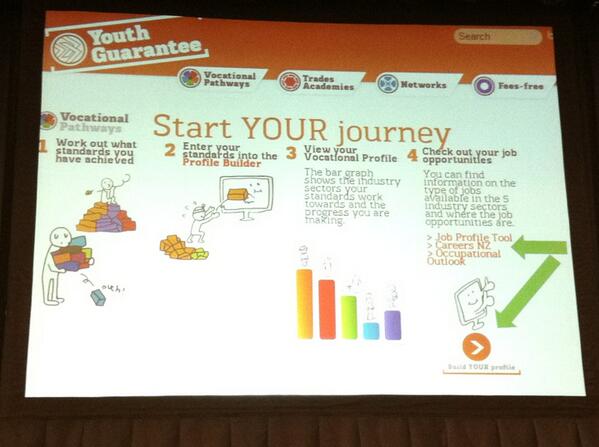 IPENZ and Future in Tech – Angela Christie
Support for Schools – presentation
Technological Literacy – Dr Vicki Compton
Implications for teaching and learning (research)